Introduction
Gone are the days when publishers had to rely on selling ads directly to businesses (for the most part).
Nowadays, if you want to monetize your website most easily and effectively, you should definitely look for an ad network.
Ad networks help fill your ad inventory and maximize your eCPM and earn passive income with only a little effort on your part.
In this article, we compiled options that'll work for all types of website owners, of all sizes – from small bloggers to established publishers.
So, if you're searching for the best ad network for publishers or bloggers, keep on reading!
What is an ad network?
Ad networks collect ad inventory from publishers (suppliers) and sell it to advertisers (buyers) to match their campaign goals.
Ad networks act as an intermediary between publishers and advertisers. They match demands and inventory space according to different categories and audience segments like age, gender, and location.
Publishers often connect to multiple ad networks. For them, ad networks are a way to sell any inventory that isn't sold directly to advertisers.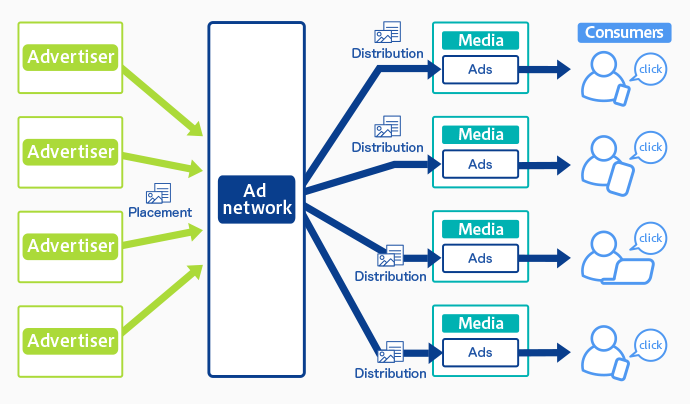 Things to look out for in an ad network
How to choose the best ad network for your website/company?
There are a good deal of differences between ad networks. From the types of ads available, different levels of minimum traffic requirements, and the billing method. Before choosing the network, you should start first by deciding which factors you're looking for in your ideal ad network.
A couple of key factors to consider are:
It's important to know how an ad network will be making their payments and check if it fits your specific needs. Different ad networks will offer different types of billing methods – such as CPM, CPA. CPC, etc…
Look for an ad network that provides active support concerning ad setup and management. A good ad network should have guides and articles to help new publishers easily add ads to their websites. Additionally, pay attention to the level of control you have over which types and categories of ads will be shown on your site.
Some ad networks set minimum traffic requirements which the publishers must meet to use their services. If you're a small to a mid-sized publisher, it's important to check whether you meet those requirements before signing up.
Low-quality ads might still help you monetize your website, but could damage your brand and user experience. It's best to partner with ad networks whose ads are non-intrusive and generally look good.
Best ad networks for publishers (Top 10)

When thinking about monetizing a website with an ad network, the first thing that comes to mind is usually Google AdSense. That's not surprising, seeing as ad network businesses like Google AdSense almost had a monopoly on the market.
However, it's no longer the only choice. These types of networks are now experiencing serious competition coming from companies that compete through innovation and develop technology solutions full of targeting methods, real data, and machine learning.
Truthfully, it is one of the best ad networks available. It's easy to use even for beginners and publishers that aren't too tech-savvy. Adsense analyzes your pages and places ads automatically based on layout, content, and existing Google ads.
The downside is that it's quite difficult to get your website approved by Google Adsense. Your website must have at least 15-20 quality posts, an SSL certificate, and more.
Traffic requirements: none
Minimum payout threshold: $100
Term: Monthly
Payment methods: Rapida, western union quick cash, eft, us checks, or local currency checks.

BuySellAds helps publishers strike direct deals with advertisers in their niche, resulting in their ad content being relevant and targeted to your website's audience.
There are no minimum requirements and conditions to partner with the ad network. They enable publishers to sell the ad impressions on your website and generate revenue as soon as you start running ads.
Traffic requirements: none
Minimum payout threshold: $20
Term: Within 2-3 days on demand. Up to two cash-outs per month
Payment methods: Check, PayPal, Wire

Now, a little self-promotion.
PurpleAds is a great way to start adding advertisements to your website with an easy and quick setup. PurpleAds partnered up with premium advertisers such as Outbrain, RevContent and Google AdX in order to allow you to present good quality ads that won't harm your user experience.
PurpleAds is easy to use for beginners and seasoned publishers. You can use it without replacing any of your other ad networks and generate additional income. There's no exclusivity or commitment, and you get paid every month.
Traffic requirements: none
Minimum payout threshold: $20
Term: Net 15
Payment methods: PayPal and wire transfer ($500 and above)
Media.net is one of the largest contextual advertising networks on the Internet. It serves ads from Yahoo! Bing contextual ad network, which comprises a large pool of national and local advertisers. This ensures a 100% fill rate across all verticals and ad formats.
Media.net offers multiple ad formats such as text and display ads, including an option to dynamically let Media.net figure out the optimal sizes for your site.
Traffic requirements: none
Minimum payout threshold: $100
Term: Net 30
Payment methods: Wire Transfer and PayPal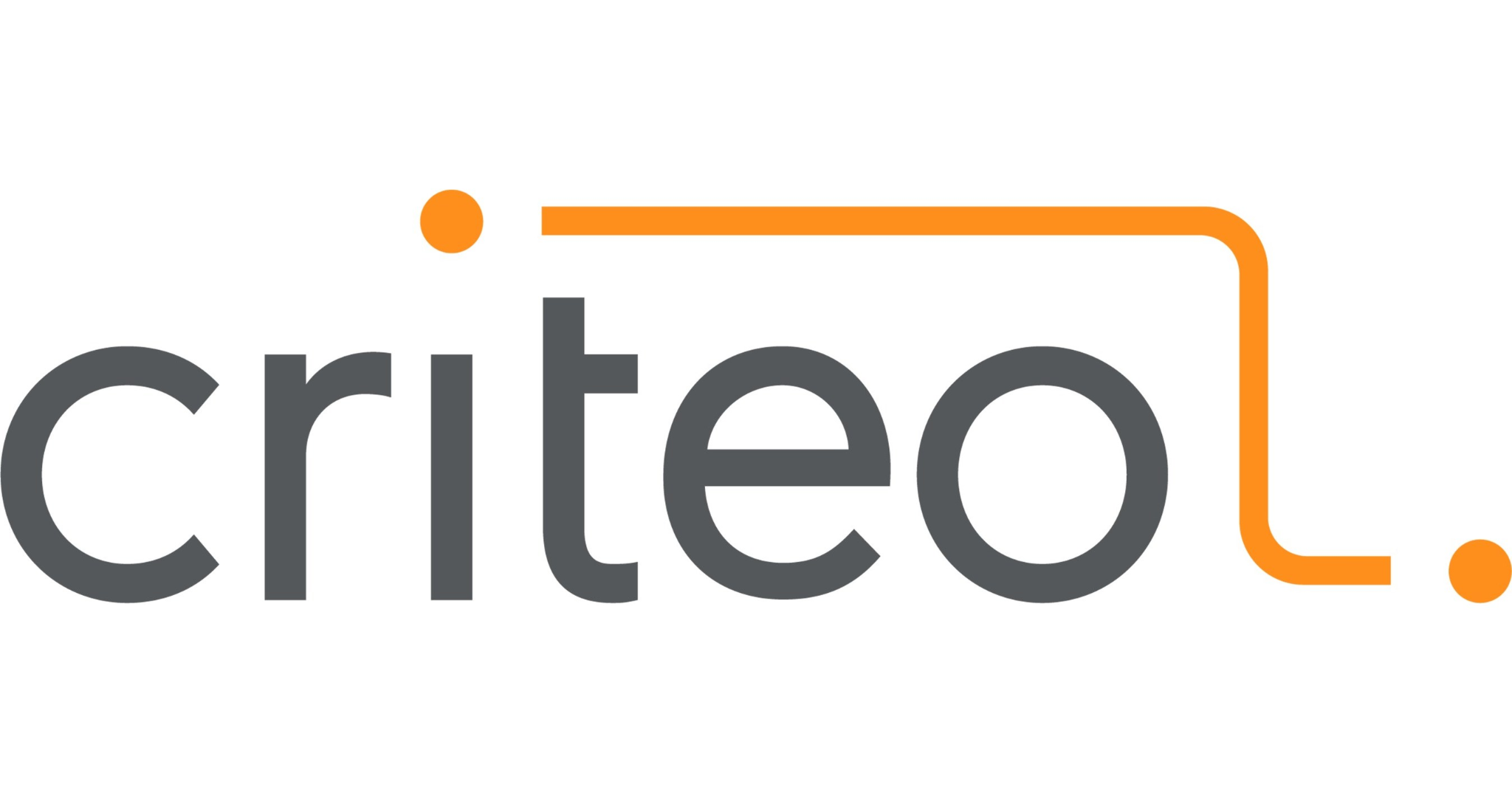 Criteo is a personalized retargeting company that works online with retailers to serve personalized online display advertisements to consumers who have previously visited the advertiser's website.
The platform is mostly used by eCommerce retailers and brand advertisers and gives publishers access to over 20,000 global retail big brand clients.
Traffic requirements: depends on the niche, quality, and audience demographics of the site.
Minimum payout threshold: $150
Term: Net 90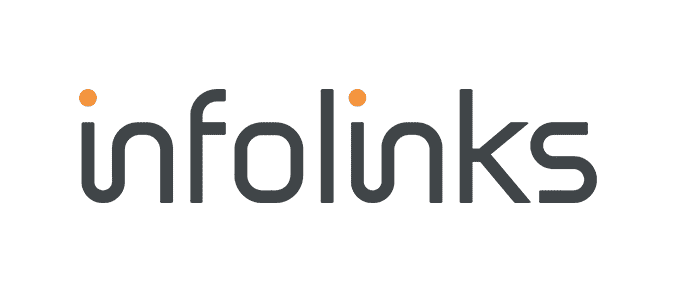 Infolinks is a distinctive contextual ad network that seeks to provide an alternative to traditional display advertising to tackle the end user's banner blindness. This is the reason that the network focuses more on in-text ads, rather than traditional banner ads.
If your website is content-heavy, and you'd like an alternative to traditional display banner advertising, Infolinks is definitely worth a try.
Traffic requirements: none
Minimum payout threshold: $50
Term: Net 45
Payment methods: PayPal, Bank Wire, eCheck, ACH (only for U.S. bank accounts), or Payoneer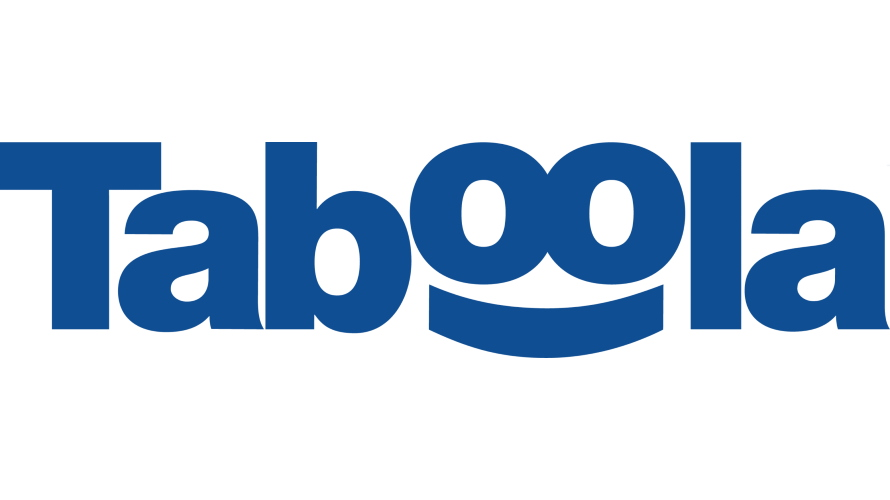 Taboola is unique in that it presents ad content in a scrolling news feed type of appearance.
As a native advertising network, it matches and targets campaigns to specific publishers according to content. This results in content that blends in with your website, making it look less of a traditional ad, and potentially gets more user interaction.
Traffic requirements: 500,000 monthly page views
Minimum payout threshold: $50
Term: Net 45
Payment methods: Direct Deposit via Payoneer.

Outbrain's strategy is similar to that of Taboola, in that it helps you monetize your website with content suggestions that appear within your site's content.
Outbrain is trusted by some of the tier-1 publishers including The Guardian, Men's Health, and BBC. As such, Outbrain has a reputation for having a higher standard of quality than most ad networks, so getting approved isn't easy.
Traffic requirements: 10 million monthly US pageviews
Minimum payout threshold: $50
Term: Net 60/90

Propeller Ads is a self-serve advertising network providing comprehensive ad-serving and optimization technologies for online marketers and web publishers.
They offer a variety of ad formats for all screen types which makes it a popular choice among website owners. With These options, it's easy for publishers to control the aggressiveness of the ads displayed on their site.
Most notably, they offer the CPM, CPC, CPL, CPI, and CPA advertising models, and you get weekly payouts (NET-07).
Traffic requirements: none
Minimum payout threshold: $5
Term: Net 30
Payment methods: Payoneer prepaid MasterCard/Payoneer bank transfer, PayPal, Skrill, WIRE, and Webmoney Z
Ezoic is an end-to-end platform that gives publishers, bloggers, and website owners a complete set of tools to monetize and improve their websites. Their most unique feature is the Ezoic Ad Tester.
This feature uses machine learning to constantly test different ads, placements, etc. to find the highest-earning configurations. These tests are run automatically and optimize how and where ads are placed on your site.
Traffic requirements: 10,000 site visits per month
Minimum payout threshold: $20
Term: Net 30
Payment methods: cheque, PayPal, direct deposit, international wire transfer via Payoneer, and Payoneer prepaid card.
Conclusion
There's a wide variety of choices when it comes to choosing an ad network. Thanks to the competition between the different networks, every publisher can find the ideal ad network for them or even an assortment of multiple ad networks.
It's best to start with an easy-to-use, beginner-friendly ad network, and continue testing and optimizing until you find the perfect solution for you!