Are you looking for a way to make money online?
You're not alone. Many people dream of being able to make money by blogging and creating their own website, even just as an additional income source.
Make no mistake – there is no quick, magical way that guarantees success. Many of the methods and tips below require some time and/or money to be invested to get started.
The good news is that there are many ways for monetizing your website – and you can pick and try the ones that work best for your niche, content, and schedule.
In this article, we'll cover 3 simple steps that are necessary to create and sustain your online revenue stream. From the very beginning of creating your website, choosing a monetization strategy, and effectively keeping your audience engaged and coming back for more.
First – Get more traffic
To truly be able to monetize your website, and create an impressive revenue stream, you first need to make sure your website brings in traffic.
Without visitors, it won't matter how much time and effort you put into any monetization strategy. In most cases, the interactions visitors have with your site are those that'll bring in the money.
The more traffic you have, the easier it will be to monetize your site.
Here are some things you can do to get more traffic:
Perform SEO best practices
Make sure your site is speedy
Post on social media
Paid advertisements
Make sure to check out our article How To Get More Traffic To Your Website As A Publisher/Blogger for an in-depth explanation and tips to make sure you get the best traffic possible.
Monetization Strategies
And now, for the reason we're all here – monetization.
Below I'll list some of the easiest and most effective ways to monetize your website fast.,
You can implement any of the ways into your own website, or even try a couple of them together. Find out what works for you and makes sense in the context of your website.
Advertising
Display advertising is one of the most traditional ways to monetize a site. It is the process of advertising a product or service through visuals on publishers' websites, blogs, or social media platforms.
Option A – join an ad network
Many immediately think of Google Adsense. And for good reason, it's the largest advertising network in the world and will give you access to ads that are checked and approved by Google. This means there's no issue with the quality or appropriateness of the ads.
However, getting approved by Google Adsense can be quite a hassle, especially for smaller websites.
Google specifies, "For your site to succeed with AdSense, it should have unique content that's relevant to your visitors and provides a great user experience. Before you sign up for AdSense, we recommend you review your pages to ensure they are in good shape."
Your website must have at least 15-20 quality, lengthy posts, an SSL certificate, and unique content.
An easier way to make more money as a publisher without sacrificing the quality of the ads you display on your site is to choose an alternative ad network, like PurpleAds.
PurpleAds partnered up with premium advertisers such as Outbrain, RevContent, and Google AdX to allow you to present good quality ads that won't harm your user experience.
It is a great option for total WordPress newbies who are still building their skills, growing their audience, or just finding their feet, and for more experienced, seasoned publishers.
You can use PurpleAds in conjunction with other ad networks and generate an additional source of income. There's no exclusivity or commitment, and you get paid every month!
How to get started?
You'll first need to sign up for PurpleAds. Once you've done this, the rest is a piece of cake.
Then you'll need to add your site to PurpleAds and wait for it to get approved by the team. Don't worry, you won't wait long 😉
There are a couple of formats you can add to your WordPress website, Floating Banner, Responsive Banner, and Automatic Sticky Ads.
Types of ads
1.  Floating Banner
Adding a floating placement requires you to add code to your site's <head> section.
The easiest way to do that is using a plugin like Insert Headers and Footers. The simple interface of this plugin allows you to have one place where you can insert scripts and custom code to your WordPress website, rather than dealing with dozens of different plugins.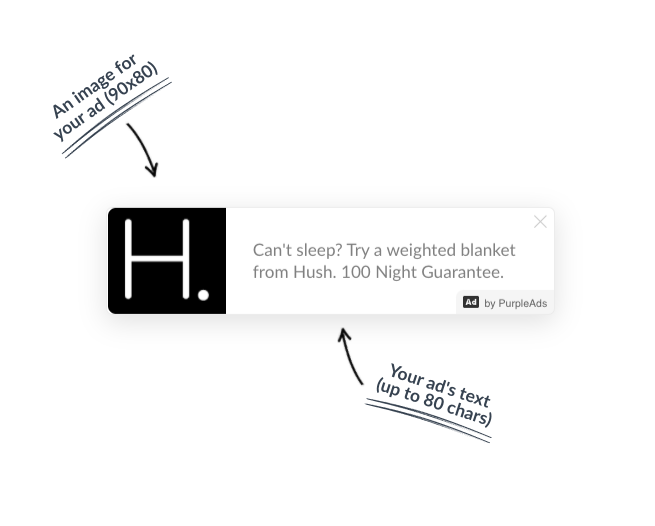 2. Responsive Banner
Adding PurpleAds responsive banners requires having a container for the ad to be embedded in.
For example in the sidebar, inside the content, sticky top, etc.
If you can add the ad code into your theme yourself, that's great! If not, we suggest using a plugin like Advanced Ads to easily create and manage unlimited ad unit placements on your website.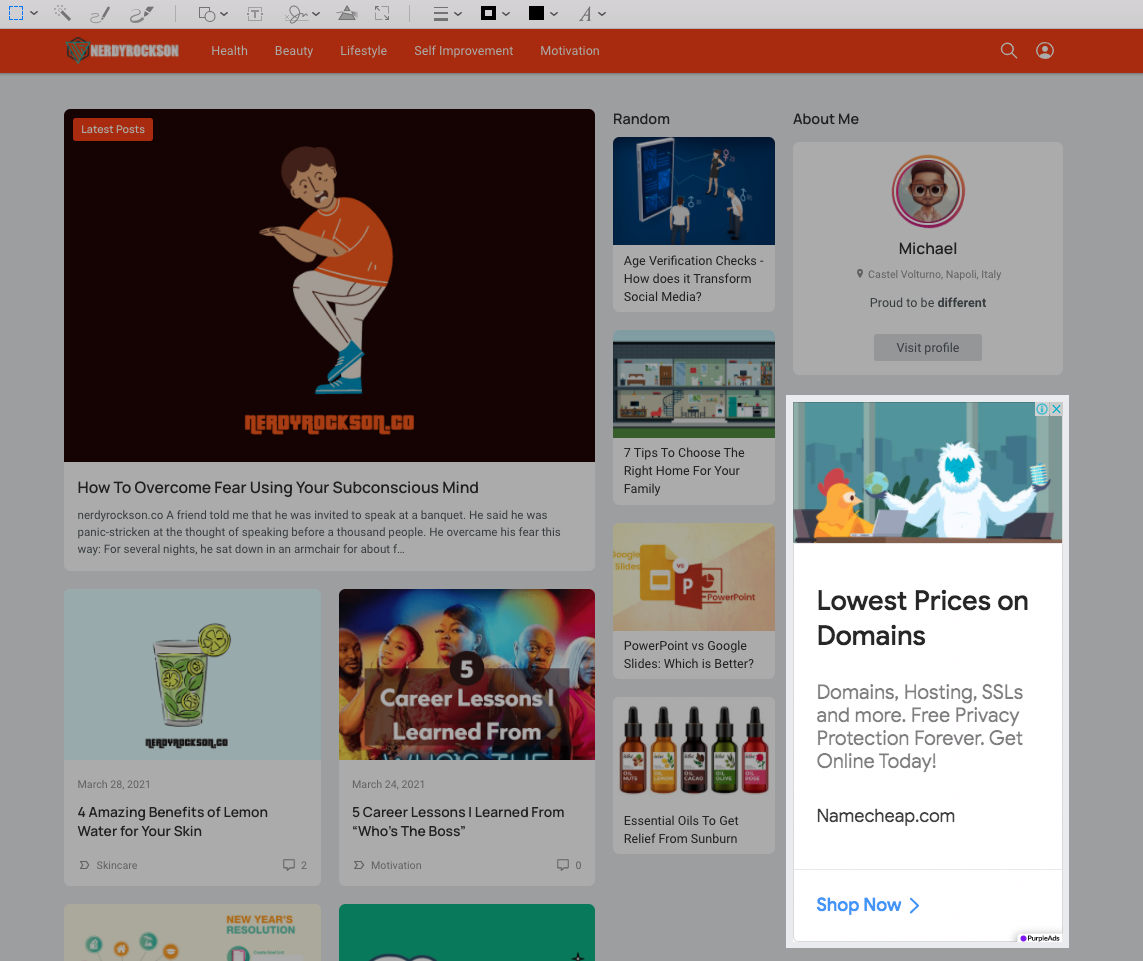 Automatic ads are part of the Responsive Display Banner ad unit and code.
To start using automatic sticky ads, you first need to install the Responsive Display Banner code on your website, as specified above.
After that, simply toggle ON your desired sticky ad placemats, and done!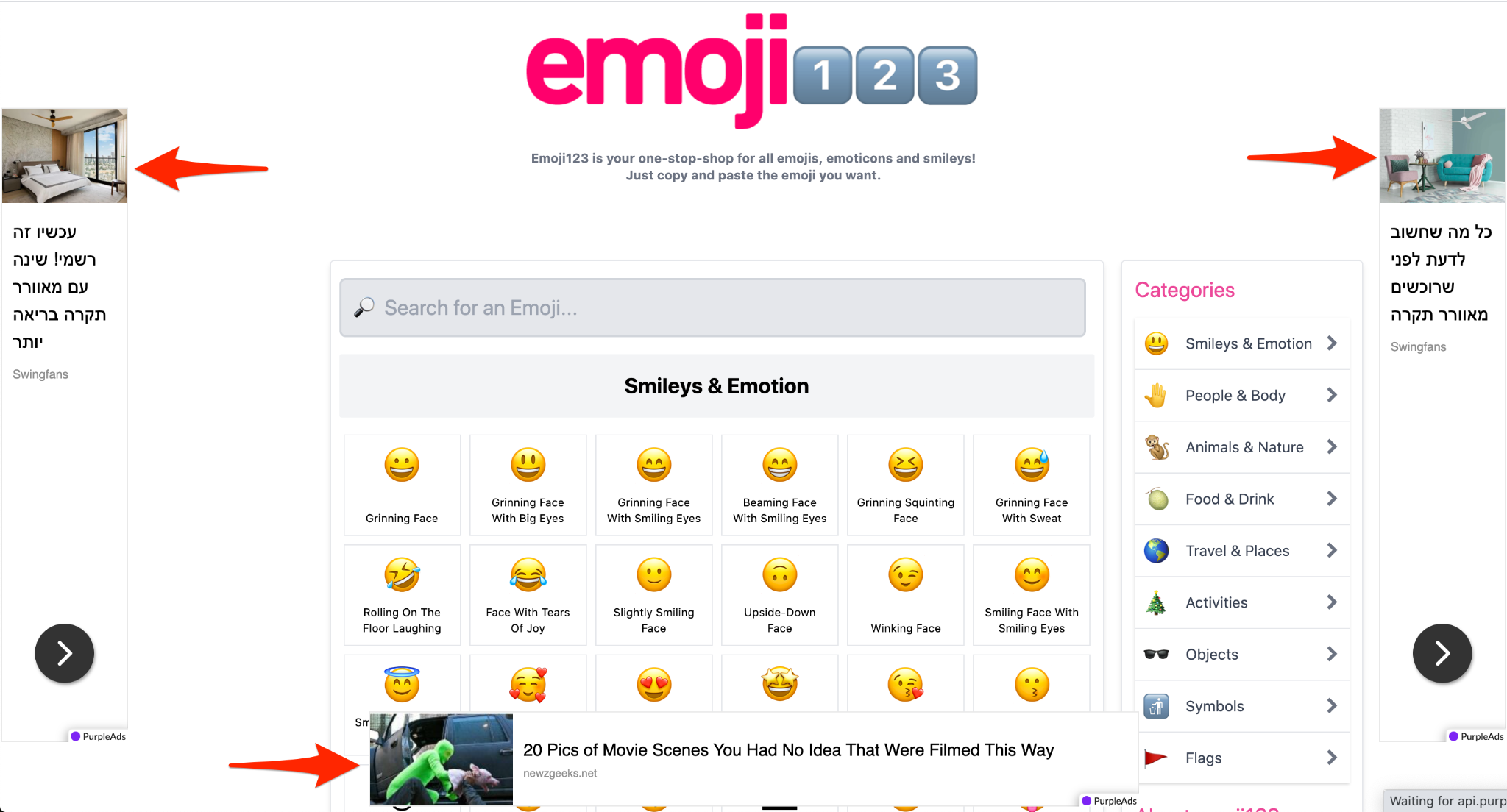 It doesn't get easier than that!
Sticky placements, as well as the floating banner, have high visibility and engagement rate and increase your website's ad performance and revenue. The responsive banner is more adjustable and possibly easier for some visitor's eyes.
A/B Testing
A/B testing (also called split testing) allows you to compare two or more versions of your WordPress pages to see which one performs better.
In an A/B test, you can show multiple versions of your pages to similar visitors at the same time by varying different form elements such as headlines, images, ad placements, copy, fields, etc. You can then compare conversion rates of your variations, and the one that gives a better conversion rate wins.
Running an A/B test is beneficial when setting up display ads because you can test just one variant on your advert or landing page. Then you run the test until you reach a conclusion on which is the better version. This way, you don't have to make a blind guess on what works best and which page or advert elements bring in more conversions.
A/B testing tips:
Don't run your test for too short/long – Running your test even after you have reached statistical significance makes it more vulnerable to external factors. Instead, end the test once you can reach a significant conclusion.
Don't test more than one variant at once – each test should have only one variation between the two versions. All other variants must remain the same.
Use a tool to help reach a statistical conclusion – many online tools and plugins that can help measure the statistical confidence in your data. Here are a couple of WordPress A/B testing tools we recommend:
Option B – team up with advertisers directly
While you could use an ad network to easily manage display ads, you could also sell banner ad space on your site directly to advertisers.
The advantage to this method is that you're skipping the intermediary (the ad network) who takes a cut of the money, you negotiate the price and terms on your own.
The cons are that you'll have to do a lot of extra work. From finding potential advertisers and reaching out to them, to negotiating the pricing, coming up with an agreement and terms, and taking care of administrative work like invoicing.
You could use an ad management plugin to help you easily insert ads anywhere on your website. This helps optimize ad placement and make the most out of your advertising real estate.
Some reliable ad management plugins include:
To Sum Up:
What is it? Displaying Ads on your website.
Who can do it? Anyone, even beginners
How do you get paid? Depends on the billing method of your ad network.
CPC – get paid for every click on an ad by visitors on your website.
CPM – get paid for every impression (viewing) of an ad by visitors on your website.
How to get started? Sign up to PurpleAds, and copy some code into your website to start displaying adverts. Alternatively, choose an alternative ad network or sell ad space directly to advertisers.
Affiliate marketing
One of the most popular ways of monetizing your WordPress blog is with affiliate marketing. It's especially relevant for bloggers or any website with a lot of content.
Many brands offer affiliate programs, where you can sign up to promote a product or service, using existing marketing materials or links with a unique URL. If someone signs up for that product or service using your unique URL, you earn a commission.
For example, let's say you created a post about the top 10 best hand sanitizers, then link out to a product via an affiliate link. Whenever a reader clicks your link and purchases that product, you'll get paid a commission by the company.
It's a simple concept and one that makes sense. When you have an audience that trusts your opinions, they'll be more likely to purchase the products you recommend. So why not earn some revenue on the way?
How does it work?
Ever entered a website and saw a little notification informing you that the page is using cookies to track you and asking you to agree to let it happen?
Cookies are small text files sent by the website you're visiting the computer or device you're using. If accepted, these cookies are stored on the web browser of your device. Cookies can then track and collect data from your browser, sending that data back to the website owner.
This concept is essential for affiliate marketing. The tracking must be precise and accurate so that you are rewarded for the sales you actually made. As a result, brands usually use cookies to track clicks from any unique URL for a set period of time.
The "cookie length" or "cookie life" defines how long the cookie will be tracking the user's online activity.
For example, if a cookie has a 15-day life, your referral needs to be purchased within 15 days of clicking your affiliate link for you to get paid.
How to get started?
Find a company whose products you are interested in promoting, and check if they have an affiliate program.
If it seems they don't you can try contacting the company directly to try and get a promotion specifically for your blog.
One of the most popular companies offering an affiliate program is Amazon. Amazon's program is perfect for pretty much anyone, given the range of products they offer.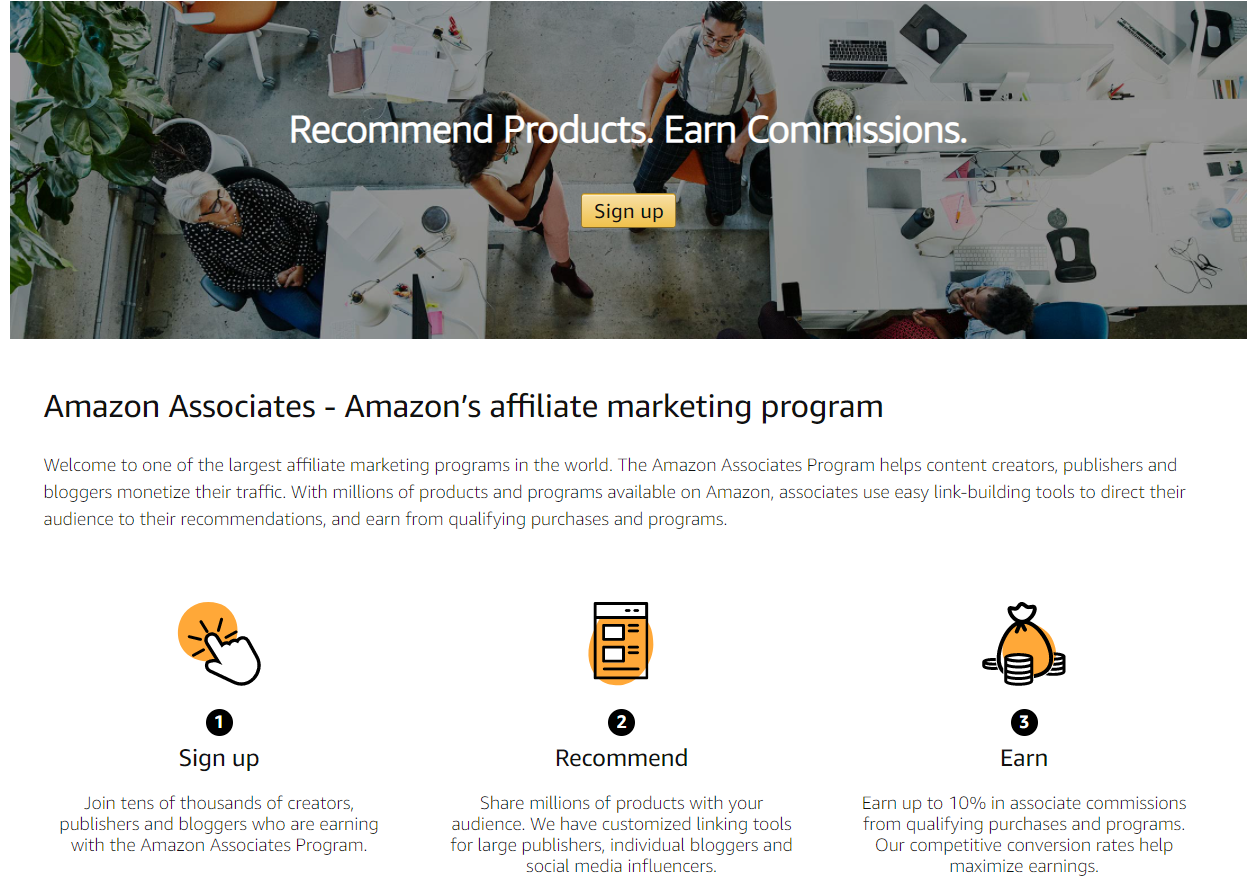 The key is to insert your affiliate link within interesting content that is actually relevant to your website's target audience. That way, the transition from a content consumer to a customer will be most natural and almost seamless.
Make sure to be transparent about using affiliate links and earning a commission from them – it's illegal not to, and unfair to your readers.
For more affiliate marketing best practices, visit this article.
To Sum Up:
What is it? Using unique affiliate links on your website.
Who can do it? Anyone! Any niche is going to have some relevant affiliate program.
How do you get paid? Whenever a visitor uses your affiliate link to buy a product, the respective affiliate company pays you a commission.
How to get started? Sign up for an affiliate program, then add your unique affiliate links to your website. Make sure the products you choose are of good quality and relevant to your audience.
Ecommerce
By the end of the year 2021, eCommerce is expected to generate $4.5 trillion in sales per year.
That's a crazy number! More and more businesses are starting to understand that the future of shopping is online.
If you don't mind the additional work that comes with creating products, whether they are physical or digital, then eCommerce is another fantastic way to monetize straight from your website.
Many eCommerce platforms work with WordPress and can help you turn your website into an online store.
Not surprisingly, our top choice is WooCommerce. WooCommerce is the most popular WordPress eCommerce plugin. It is also the most popular eCommerce platform in the world.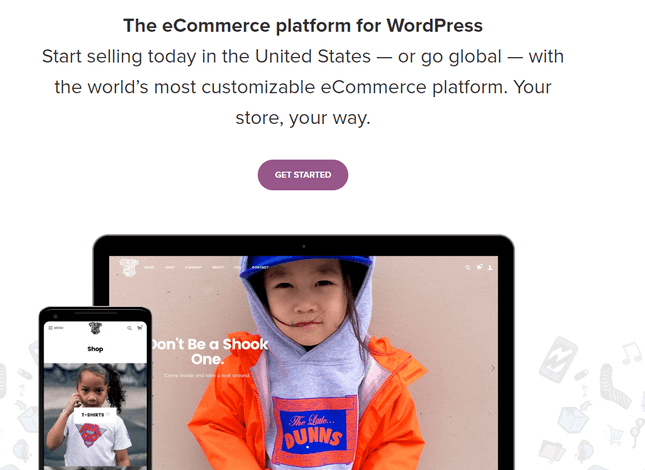 Using WooCommerce to build an eCommerce business is one of the easiest things you can do on WordPress, and you can sell anything! from physical and digital products to appointments and services.
Non-WooCommerce eCommerce plugins:
There is an endless amount of products you can sell, both digitally and physically. Below I'll expand on a couple of options for digitally selling with a few tips.
Ebooks are especially well-suited for blogs. If you've been blogging for some time, you can even turn some of your older content into an ebook.
Try thinking of an ebook idea that relates to your niche, so that it would be easier to sell to your existing audience. For more ideas and writing tips check out this guide.
Ebooks are pretty simple and take less time to produce than other forms of content, and they're typically affordable. After writing your ebook, create a PDF version of it and start working on the cover. You can design a cover on a free design tool like Canva.
Online learning, often referred to as e-learning, has been practiced for decades by now. However, in recent years, it has seen massive growth and emerged as a safe and viable option for education in the times of the COVID-19 pandemic. By 2025, the worldwide e-learning market is projected to be worth $325 Billion.
Think – is there a skill, training, or knowledge you have that you can share with others? If the answer is yes, you're in the perfect position to join this market and start monetizing from selling courses and webinars.
To start, you'll need to create the structure and lessons for your course, plus any additional materials that you want to include such as downloads, slides, checklists, templates, etc.
Once you're done, the hard part is behind you! Setting up your online courses for purchasing is super easy thanks to the many WordPress plugins available.
For example, the plugin LearnPress is a free comprehensive WordPress LMS (Learning Management System) Plugin. It can be used to easily create & sell courses online. Each course curriculum can be made with lessons & quizzes which can be managed with an easy-to-use user interface.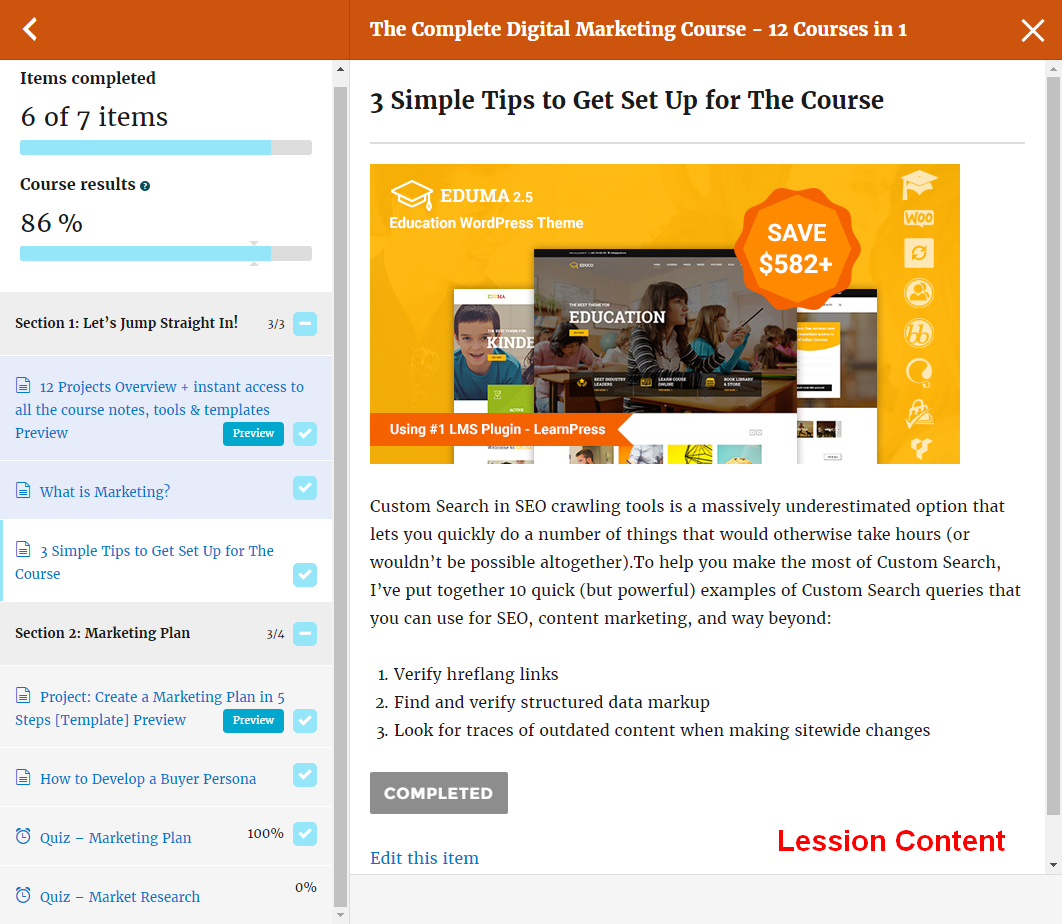 Similar options include:
WordPress users are pretty familiar with plugins. There are many plugins available for free on the WP plugin repository.
But that doesn't mean there is no demand for paid plugins as well. Many of the free plugins operate within a freemium model, which means the plugins have both a free version and a premium paid version. The free version is usually limited, prompting users who love the plugin to upgrade to the premium version.
If you're a developer, creating plugins can be a valid source of income. After creating the plugin, you have multiple options on how to sell it:
Sell it as a freemium plugin on the WP plugin repository
Sell the plugin exclusively as a premium plugin, either on a marketplace or on your website.
Selling on your website cuts the need to pay a commission to the marketplace, but comes with a lot of additional work you'll have to do yourself, such as licensing, managing, and promoting.
For more information on selling WP plugins, check out this article by Wedevs.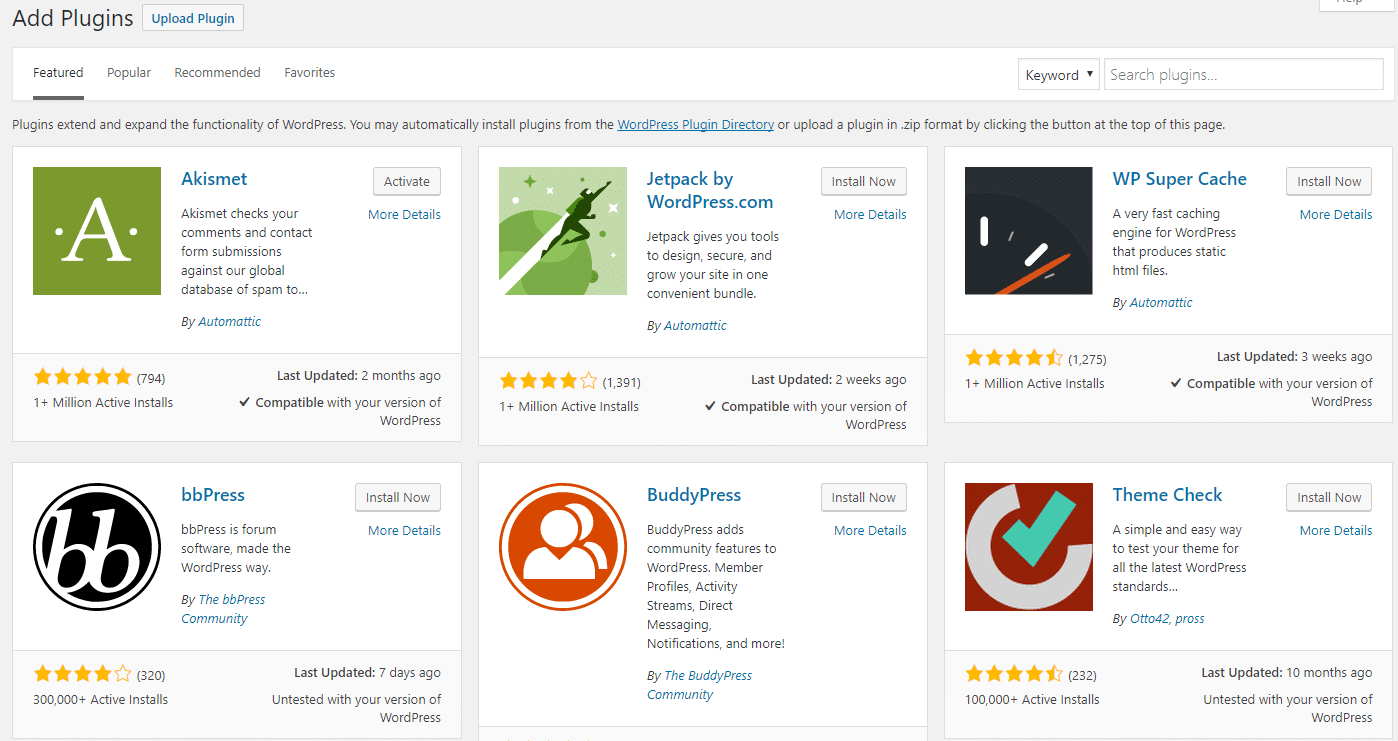 To Sum Up:
What is it? Selling physical or digital products from your WordPress site.
Who can do it? Anyone! As long as you have something to teach, or a product worth purchasing.
How do you get paid? Whenever someone purchases your product.
How to get started? Find your niche and create the product you want to sell. Then, install an eCommerce plugin like WooCommerce and start selling.
Sell a service
Selling services is another fast and easy way to start making money online. There's no investment into creating products that may not sell as well – you create only as demand exists.
You can create a "hire me" or "offered services" page on your website, and promote it to your visitors.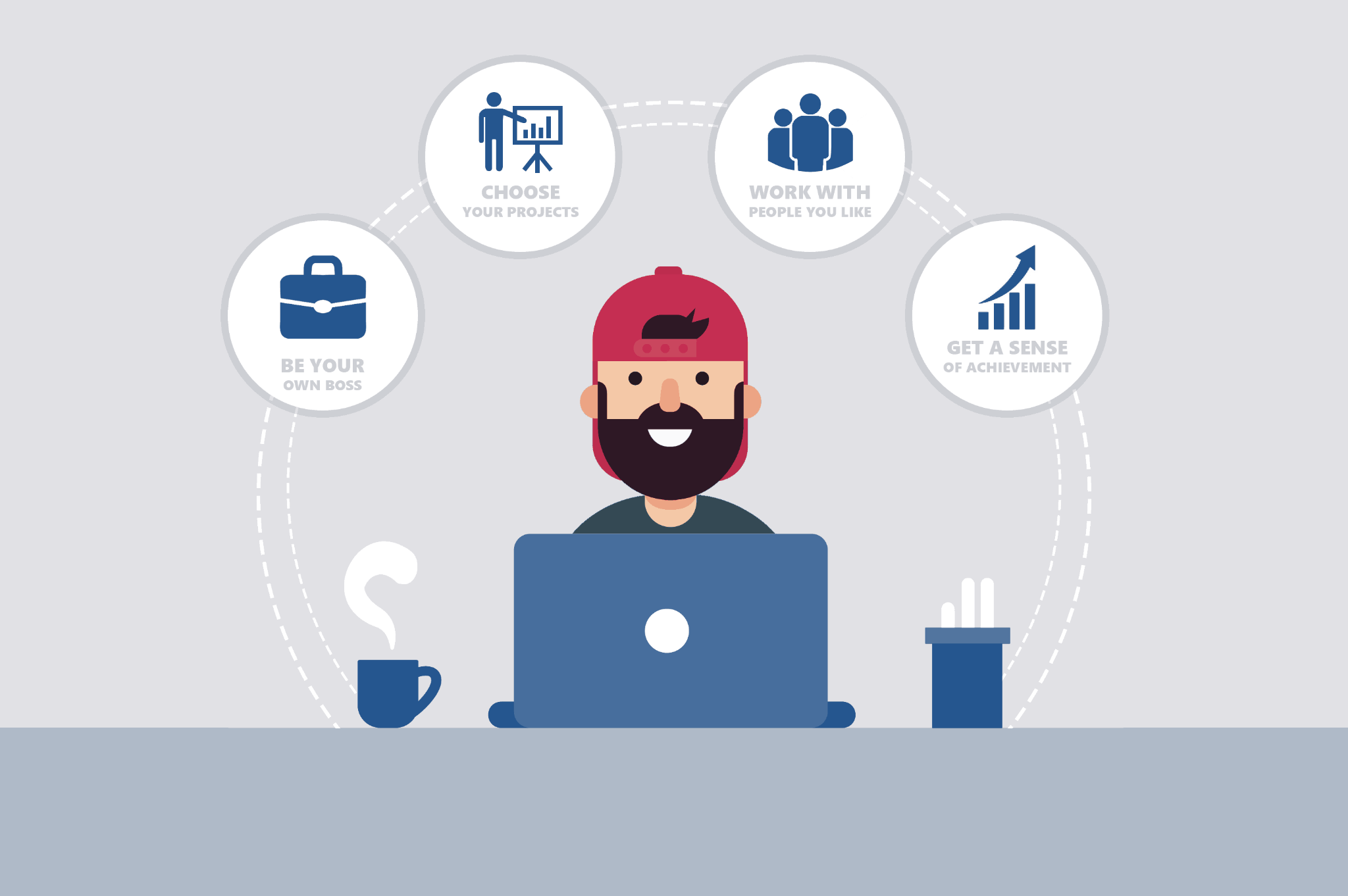 Here are a few ideas for services you can offer:
Established bloggers can offer their writing skills and create blog posts and articles for others, usually small companies.
This niche usually speaks for the small, start-up companies that want to generate more traffic to their website and seem more credible by having a lot of written content to display on their website or blog.
However, these types of companies often don't have the time to sit down and write the content themselves, and that's where guest writers come in.
You can charge based on the time you worked on a post, the number of words, or have a fixed price – whatever suits you best.
This is a perfect option for seasoned writers that have some time on their hands and want to monetize doing something they enjoy.
A life coach offers advice, guidance, and accountability for setting goals and improving one's life. There are also other kinds of coaches, such as blog coaches, writing coaches, and more.
If one-on-one coaching is something you believe you can do, consider advertising your coaching skills and allowing your visitors to schedule calls and appointments with you.
Some plugins can help you save time and offer convenient booking solutions on WP, such as:
Having a WordPress website (assuming you built it yourself) means you have a skill many people want. Sometimes people want to have a website but are unsure of how to actually create it.
You can advertise yourself as a professional WP developer, and include examples of sites you've built before, testimonials, and a guarantee to support and answer any of your client's questions.
If you're a pro in this niche, you might find that you can maintain your website while also building WP websites for clients as a part-time gig.
Given the fact that you own a WP website, it is safe to assume you've heard about SEO before. It's also likely that you've dabbled into SEO when trying to get more traffic for your site.
If this is true, then you have yourself another monetization opportunity to try.
Search Engine Optimization can be a challenging product to sell if you don't have the right approach. Try following this expert's tips if you're considering giving it a shot.
To Sum Up:
What is it?
Who can do it? Experts in their niches
How do you get paid? As a freelancer that's up to you – you can ask for PayPal transfers or even list on a freelance website like Fiverr.
How to get started? Choose the niche you expert in, and think about how you could use your skills to help others – then advertise your skills as a freelancer.
Sponsored content
As an established writer, you can secure sponsorships, in which brands pay you to mention or review their products in your posts.
This is similar to affiliate marketing in that you are injecting links and directing your visitors to a specific company. However, this way guarantees you get paid a nice amount (which you get to determine) and does not depend on whether your readers convert.
As with affiliate marketing, it's important to be genuine and disclose any sponsored posts or reviews. Be genuine and only accept sponsorships you would honestly trust with your audience.
If you're just starting and companies aren't reaching out to you, reach out to them! Don't hesitate to pitch a sponsorship offer to relevant potential sponsors via email or LinkedIn.
Make sure your offer includes the reasons why the company should sponsor you. Things like your monthly traffic, the authority you have in your niche, social following, etc…

To Sum Up:
What is it? Write posts or reviews sponsored by a company
Who can do it? Bloggers
How do you get paid? Whichever way you choose (length, time, fixed price, etc…)
How to get started? Set up an email address companies can reach out to sponsor you, and make sure to advertise it on your website. You could also reach out to companies yourself.
Conclusion
No matter which size your website is, you can start monetizing it today.
It's worth trying different methods, and even combining them to balance things out. On the other hand, try not to overdo it. In the end, the most important thing is the quality of your content.
In addition, remember that you should always work on getting more traffic – as higher traffic means more clicks on ads and affiliate links, and more authority you'll have to offer to potential sponsors.
If you want to start monetizing with an ad network today, consider giving PurpleAds a shot! We're here to help you get started.