Want to monetize your website?
If the answer is yes, you're in the right place.
You may think it's as simple as setting up a website or blog, creating some content, displaying ads, and waiting for the money to pour into your account.
However, it's not that easy to find your place on the web and make a name for yourself as a blogger today, and it takes a lot of time to build your audience to the point where it's successful and engaged.
On top of the hard work, making a profit off of your website also takes a considerable amount of time and patience. The 10 top paid blogs (as of 2020), were started around 10-15 years ago.
But don't worry, throughout this article, you'll learn 9 ways you can start using today to monetize a website.
Ways to monetize your website
Affiliate marketing
Many brands offer affiliate programs, where you can sign up to promote a product or service, using existing marketing materials or links with a unique URL. If someone signs up for that product or service using your unique URL, you earn a commission.
Sounds simple right? But there are a couple of catches you need to be aware of:
The affiliate tracking must be precise and accurate so that you are rewarded for the sales you actually made. As a result, brands usually track clicks from any unique URL for a set period of time, typically by using cookies.
The "cookie length" or "cookie life" defines how long the cookie will be tracking the user's online activity.
For example, if a cookie has a 15-day life, your referral needs to purchase within 15 days of clicking your affiliate link for you to get paid.
That also makes it problematic if your referral purchases while browsing in private (incognito mode), since none of your cookies will be saved and you won't get paid.
It's illegal to not include a disclosure when you use affiliate links or otherwise promote a product after being compensated for it. So whenever a link is used on your website that results in a commission, you must disclose this information to site visitors.
Nobody likes to be bombarded with a ton of promotional offers the minute they enter a website or while trying to read some content. You should be conservative with the number of affiliate links you include on any given page, as to maintain credibility and not scare your visitors off.
For the same reasons, you should only recommend products and services your audience cares about.
Keeping these points in mind, affiliate marketing is still one of the simplest and easiest ways to monetize your website.
There are many forms of content you can create to earn money as an affiliate:
Top 10s lists and recommendation pages are some of the most engaging types of content currently being put out by content creators. People are always looking for advice and confirmation from other people, and so this type of content gets a lot of organic traffic.
It is also a great place to include affiliate links when they are relevant, and encourage your readers to support you by purchasing via your affiliate links.
As an affiliate marketer, you can create and publish reviews of the products you've tried and liked. Many people look at online reviews before purchasing any product for the first time. According to a study done by eMarketer in February 2018, roughly two-thirds of US internet users reference them at least often before making a purchase.
Evidently, this is a great place to start promoting your affiliate links.
Another form of content you can create to promote your affiliate links is to include YouTube videos as part of your content.
According to YouTube, over 2 billion logged-in users visit YouTube each month, and every day people watch over a billion hours of video and generate billions of views.
Opting to create YouTube videos exposes your content not only to your website visitors, but also YouTube's staggering amount of visitors, and there's a high chance most of your usual content will translate easily into video form.
For example, Entrepreneurs On Fire's John Lee Dumas makes a lot of money by inserting affiliate links authentically into his content.
In his articles, he makes sure to include the required disclaimer that says he is including affiliate links, which gives a sense of transparency and makes readers believe in him.
If a visitor clicks on any of the links and converts, Dumas receives a commission. Seeing the figures he shares in his monthly income reports, one can definitely say Dumas has mastered affiliate marketing.
Brands will offer different CPA offers. As an affiliate marketer, you should recognize which affiliate networks make the best offers, earning you good commissions, but also which ones fit your niche and audience.
The key is to create interesting content that is actually relevant to your website's target audience. That way, the transition from a content consumer to a customer will be most natural and almost seamless.
Display ads
Display advertising is one of the most traditional ways to monetize a site. It is the process of advertising a product or service through visuals on publishers' websites or social media platforms.
The easiest way to become a publisher is to join an Ad Network. These networks connect businesses that want to run advertisements with websites that wish to host them. Simply put, their goal is to match ad space to the need of the advertisers.
The most popular network is probably the Google Display Network. Their ads alone reach 90% of global internet users, and over 210 million unique visitors in the United States view ads served via the Google Display Network monthly.

But that's just Google! The ad industry is ever-evolving and there are many Ad Display Networks available for publishers to choose from.
A great alternative ad network is PurpleAds. With PurpleAds, you can easily make money by showing simple non-intrusive, non-distracting ads on your website, and earn money for every user's click. PurpleAds already has over 1,700 happy publishers (and counting) and displays over 200 million ads each month.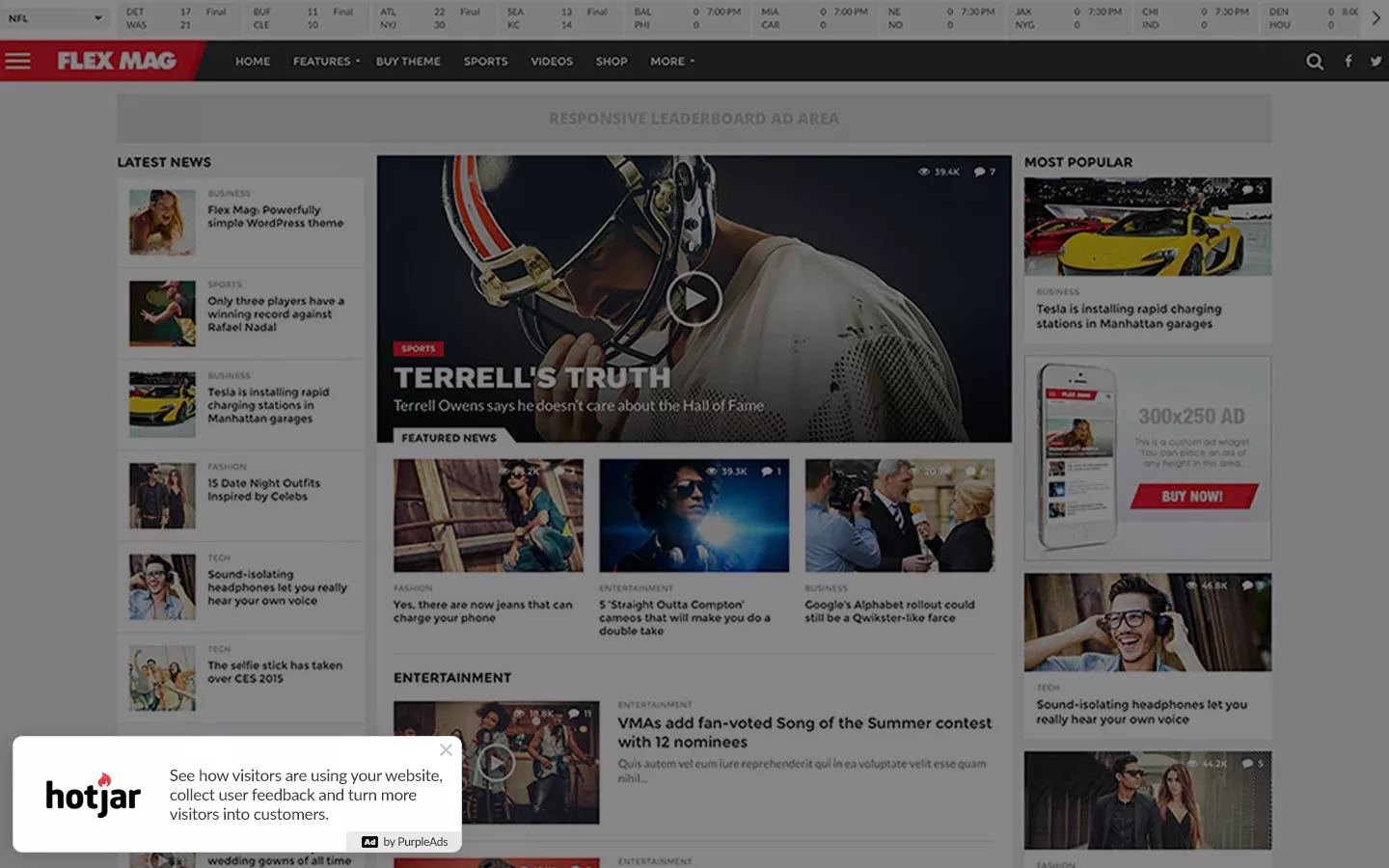 So how do you get paid? There are many billing models ad networks use (which you can read about in our article), but the most popular method is probably CPC – Cost Per Click. You get paid each time someone clicks on the ad.
Display ads are popular and you can find them on almost every website, but to truly benefit from showing ads on your website, you have to constantly optimize them. You need to understand your specific audience and what type of ads work best for them – static, animated, video, images, banner sizes, etc.
Selling ad space directly
Ad display networks are only one way of monetizing your website with advertisements. You could also go directly to advertisers and companies, and sell the free space on your site, by yourself.
The advertisements can take the shape of sidebar banners, links, or pop-ups. Since there is no third-party advertising network involved, you can have full control of the prices and come-up with fees that'll benefit you.
You can employ different pricing methods:
If your website drives a large amount of traffic, it might be wise to choose a Cost per Mile (thousand) method. That means you'll get X amount of money for every 1,000 visits. For example, at $2 CPM, if your website got 10,000 monthly visitors, you'll get $200.
You can simply name a price, based on your website's performance and the ad space you are offering, and get paid upfront every month.
Of course, you won't be able to demand high fees with no justification. You'll need to research what your competition might be charging and use online analytics tools to get information about your website's performance (including organic traffic, your audience's value, etc).
How to find advertisers?
Look at your competitors' websites – there you'll not only find potential advertisers but those who are willing to spend money on digital marketing.
If you have an account on any advertising network – look at the relevant ads they present to you, and reach out to the advertisers directly.
Look in professional media platforms like LinkedIn and SellerCrowd.
BuySellAds – probably the most popular environment to let advertisers know you're selling ad space.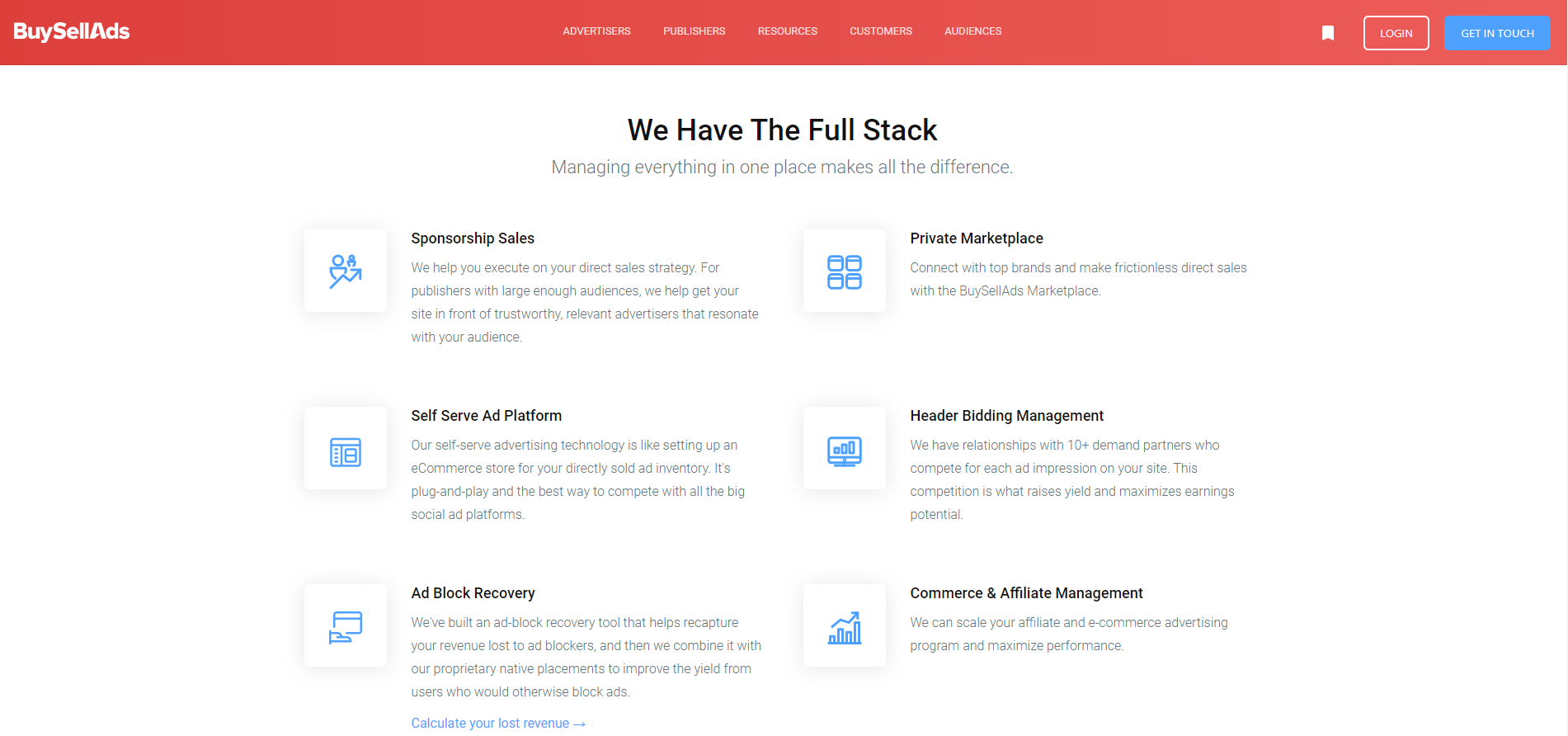 Sponsorships
Sponsored content is another viable way to monetize your website. You can collaborate with other companies, create content for or about them, and publish it on your website. Businesses can sometimes write the content by themselves, and simply ask you to publish it on your website or promote it on your social media.
Some sponsored content ideas you can charge businesses for are:
Publishing a review of your sponsor's products.
Posting about a relevant offer or sale your sponsor is offering.
Publishing a post about a topic relevant to your website, and linking to your sponsor's website.
Promoting your sponsor's business on your social media platforms.
How many you sponsor will pay you depends on many factors, including the type of content, how much influence you have (followers, newsletter subscribers, traffic), the number of sponsored content pieces you'll post, the brands' value, etc.
For example, Alexis from Fitnancials shared that she makes $3,000+ every month from sponsored posts.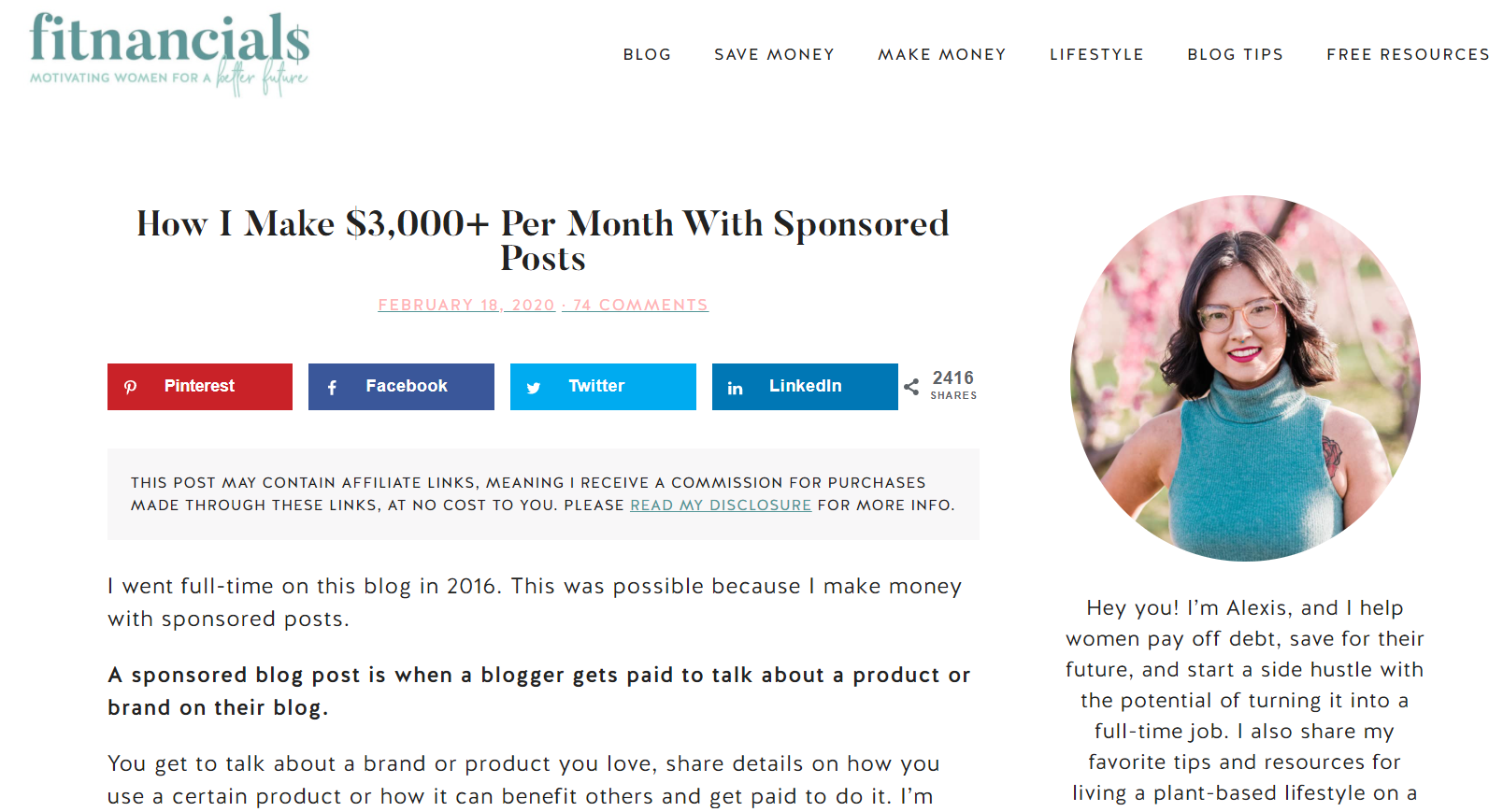 General guidelines and tips to follow if you want to make sponsored content a source of revenue:
Add rel=nonfollow tag to sponsored links
Google has said for years that selling links that pass PageRank violates their quality guidelines, adding a nonfollow tag ensures that adding paid links won't hurt your website's ranking.
Part of the charm of sponsored content is that it doesn't feel like ads shoved in your visitors' faces. Publishing sponsored content that lines up with your website's primary content feels authentic.
Just like promoting affiliate links. It's important to be transparent with your readers and disclose any advertising relationships you have. If your content feels forced, it can immediately ruin all of the reader's good intent you've worked so hard to create in the first place, and trust is hard to win back.
Sell your product or service
If you have expertise in any field, or skills to create a product, selling those products online can be a wonderful way to monetize your website. This monetization strategy works best for creative, personality-driven blogs and websites.
To successfully monetize off of selling products online, you need to make sure you're offering something well-made and unique. Tons of people already sell stuff online, so you need to make yourself better than the rest. That includes making sure your products are high-quality, creating persuasive landing pages to be able to convert visitors, and offering your customers an easy, no-hassle experience.
Physical products require a bit more attention. From taxes, shipping and handling, and payment gateways, it's not an easy process. However, once you successfully create the product and optimize your customer's experience, the content creation is done, and all that remains is promoting your products.
Additionally, some companies offer to take care of most of that for you! For example, TeeSpring offers imaginative creators to design T-shirts, set a price, and receive profits, while they handle the rest – production, shipping, and customer service.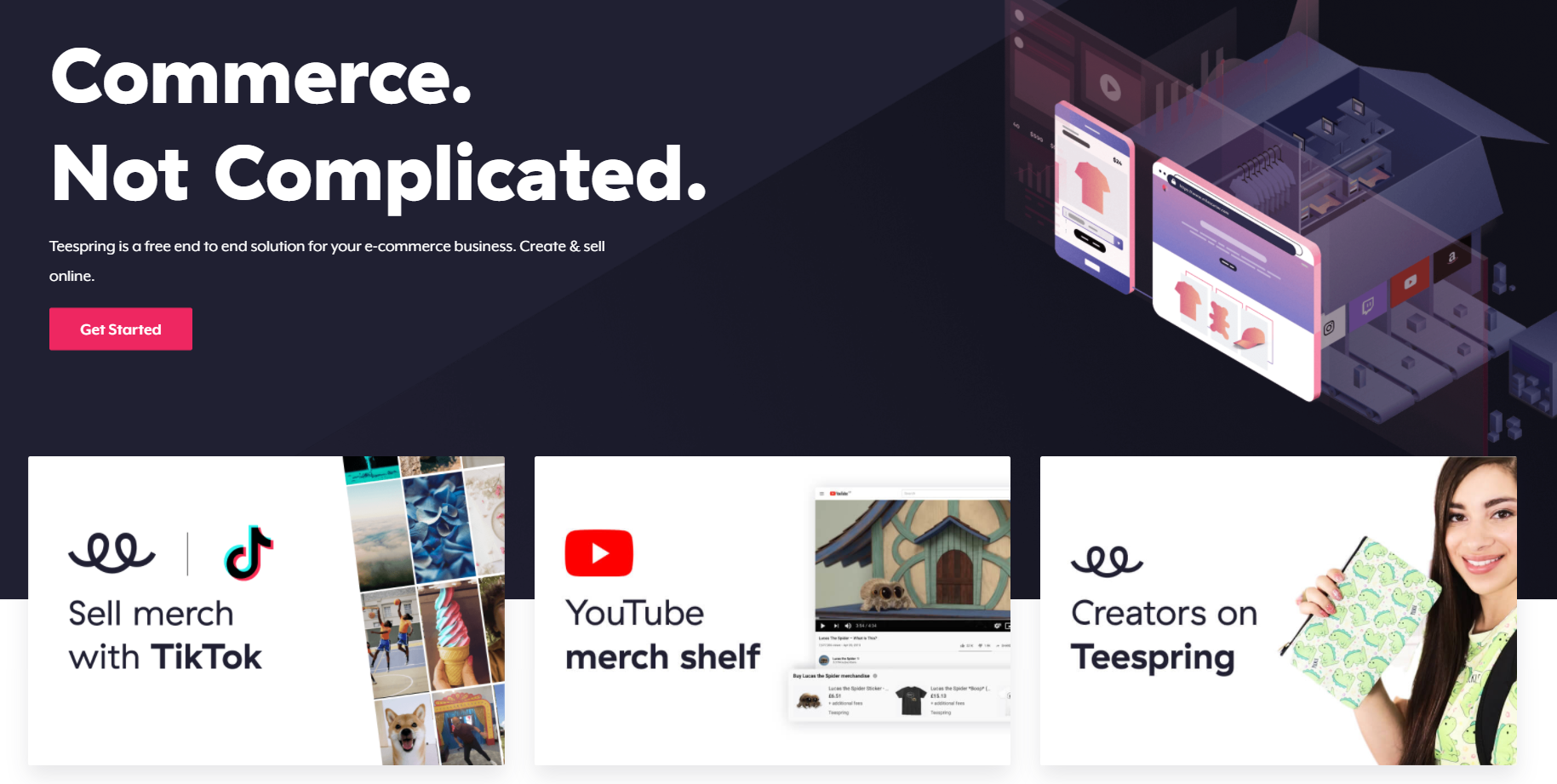 Digital products are much easier to manage. Choose your niche, create a product, and start selling! The possibilities are endless here, as there are so many types of digital products you can sell. Here are a few examples:
Ebooks
Audiobooks
Guides
Courses
Coaching services
Blog templates
Stock photos and videos
Graphics and illustrations
Posters
Photoshop presets
You can choose to integrate with an eCommerce platform, and you're set to earn some passive income.
Monetize access to your content
You can choose to monetize your website by making it an exclusive, membership website. That means that visitors that come to your site will need to pay to be able to access all, or some, of your content.
This works especially well if you already have an established audience of engaged readers who love and consume your content regularly. they'll most likely agree to pay since they already have this experience with your content.
For example, The Washington Post asks readers to subscribe to a monthly or annual subscription plan to read their articles.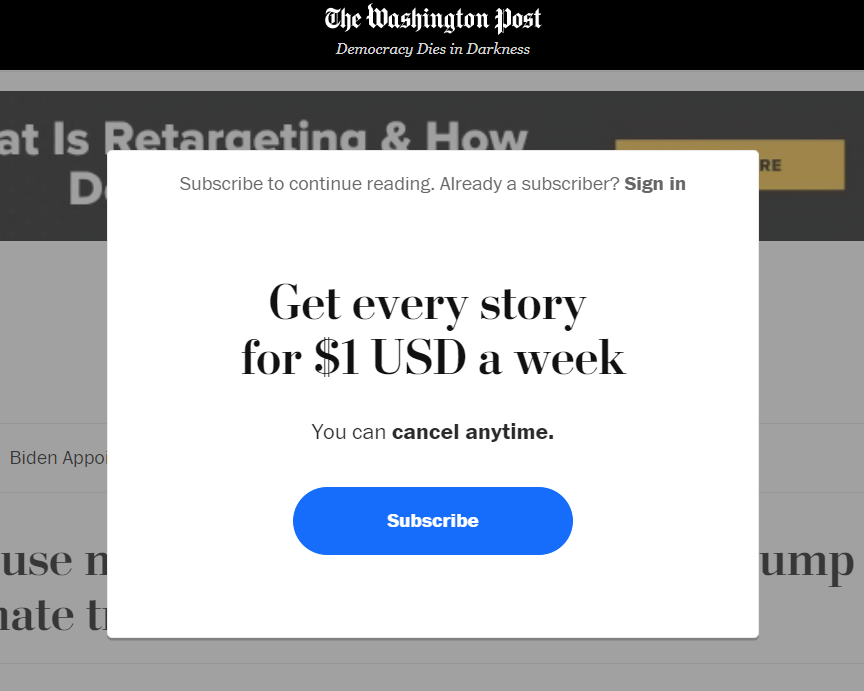 Ways to introduce membership monetization to your website:
Allow your readers to continue and consume your post and articles for free, but offer a paid membership newsletter where subscribers get additional, exclusive, premium content.
Readers pay monthly or annually to access your site's content.
Sell individual content such as guides, videos, audio, and live streams.
content is free until readers reach a certain checkpoint (X amount of posts or time on your website). They will have to pay a certain amount if they want to continue reading.
Allow readers to access demos or summaries of your content. After that offer them to purchase the full version of that content piece.
Accept donations
If you have a loyal audience that loves and consumes your content regularly, there's no shame in asking them to support your efforts, so you'll be able to continue creating their beloved content. Many content creators already use this method, and it's probably the most acceptable way to monetize your website from your users' perspective.
Most of the donations are made via a monthly subscription. For example, Wait But Why has over 3,500 patrons who commit to a monthly pledge.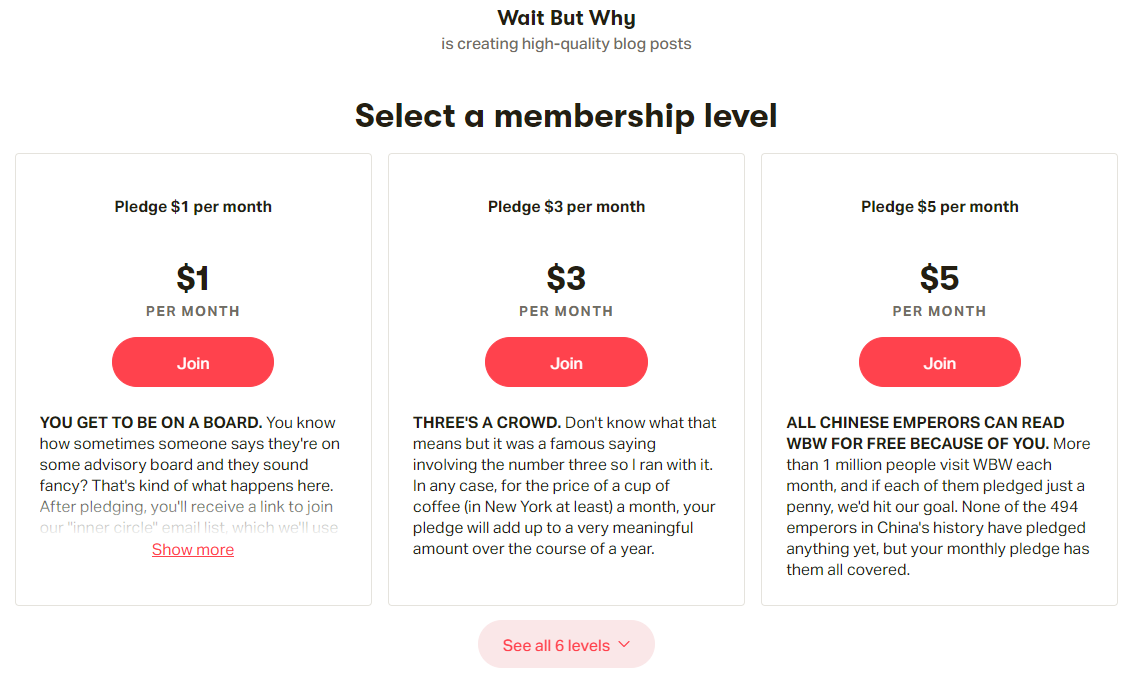 All you have to do to enable donations is to set up the account of a payment service like Patreon, Buy Me a Coffee, or Paypal and link them from your website, with no extensive technical efforts.
Website flipping
Another way to monetize off of websites is to sell them! Crazy? Not really. If you're skilled at building websites, optimizing them, and getting their ranking up, you can make good money by selling them to others. You can either build a new website or "flip" your own.
The price of your website depends on several factors, such as your niche, traffic, the profit it generates, and continuous performance.
The main thing is that buyers won't be interested in a new website without results. So this isn't a fast monetization way. You'll need to show a months' worth of good performance before your website can be sold.
According to Mint, usually priced at a multiple of the site's monthly earnings, a $1,000-per-month website could sell anywhere from $15K to $25K in upfront cash.
Say you decided to flip your website, what's next? There are plenty of sites that deal exclusively with such virtual real estate, acting as marketplaces for buying and selling websites, such as Flippa, Empire Flippers, FE International, and WebsiteBroker.
Promote your services
Another way to monetize from your website is to use your website as a portfolio to promote your skills and experience online. Many experts offer their services through different freelancer platforms, but according to Hubstaff blog, Freelancers with websites charge, on average, 65% more than those without websites.
For example, ToyFight offers creative services from research to strategy, branding to Illustration, UX, and Development. Their website is a wonderful portfolio that shows who they are and what they do, but mainly, their past projects and experience.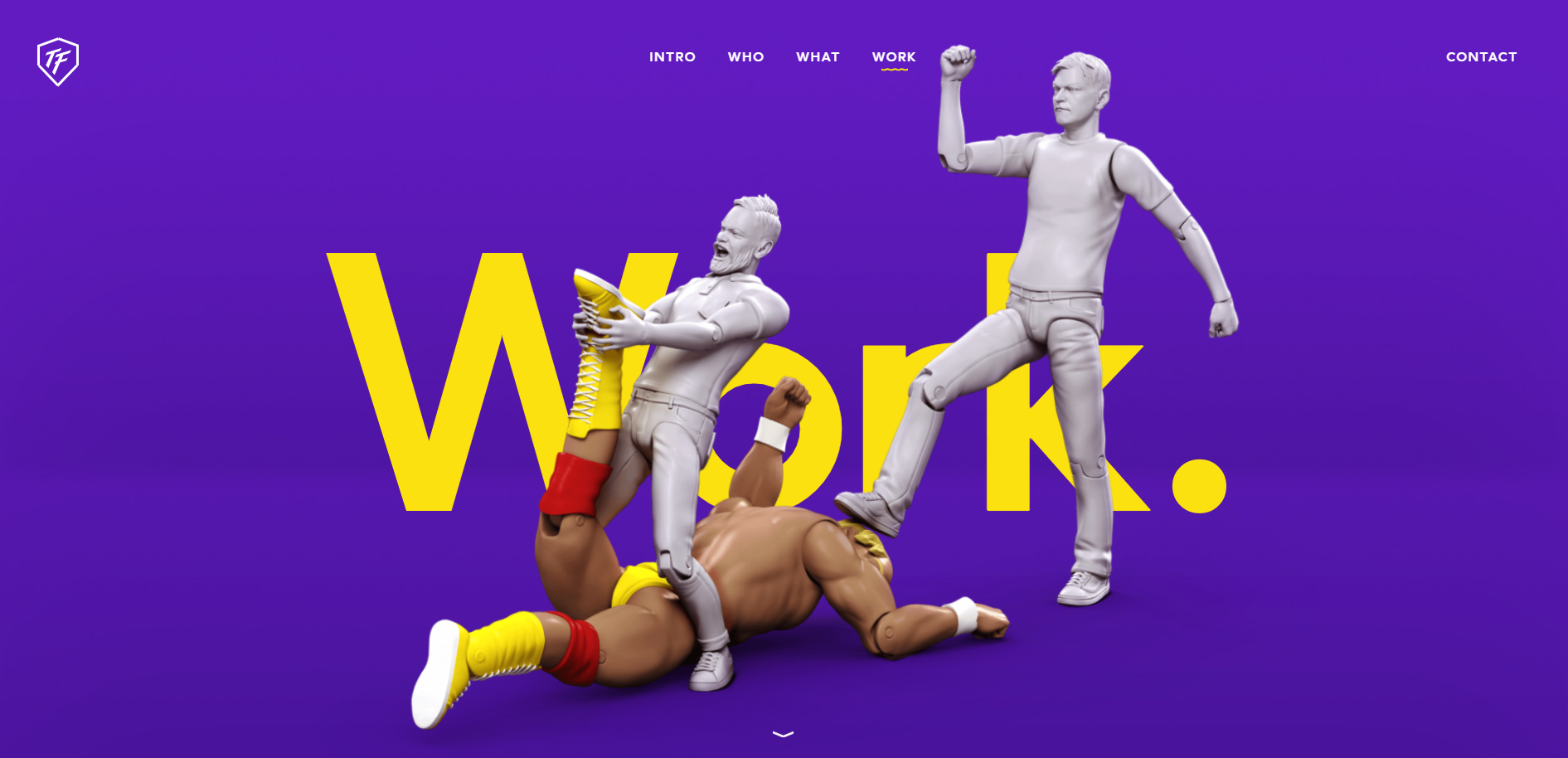 Some skills you can monetize are:
Graphic Design
Sales
Digital Marketing
Social Media Marketing
Career Advice and Mentoring
Customer Service
Writing & Editing
Website Design
Website Development
Translation
Photography
SEO
PR
Conclusion
The most important takeaway from this article is that successfully monetizing your website is not an easy, passive way to make revenue. It takes a lot of time and care to figure out which monetization method works best for you, and even longer to optimize it completely.
Additionally, you won't be able to monetize in any way, without traffic to your website. Make sure to constantly work on driving more organic traffic to your website, and creating quality content tailored to your audience.
I hope you'll find these examples helpful and try implementing them on your own website. With time and patience, you'll see your website turn into a great source of income.