If you created an app and want to offer it for free, that does not mean your hard work has to go without making you any money. In-app monetization is a great way for app publishers to make additional revenue.
With mobile advertising on the rise, the opportunities for mobile app publishers and developers are incredible.
In this article, you'll learn some app monetization strategies, what are the key factors app publishers need to consider when looking to monetize the apps, ways to do so, and how much money you should expect to make.
What Is In-App Monetization?
In-app monetization, not to be confused with mobile web monetization, refers to the process of converting your app users into revenue.
The oldest and most straightforward app monetization strategy is charging an upfront price to download an app. Just set a price and collect the money after your app store of choice takes its cut. However, today only 5 to 10% of users are willing to pay for an application, but only one with high quality and performance, and specific functionality.
Users have grown accustomed to free apps that are monetized through ads or in-app purchases, so charging an upfront price may sabotage the number of opportunities your app gets.
To combat this challenge, app developers realized they must shift their revenue model to generate revenue after the app has been downloaded. This is the process of in-app monetization, and there is no shortage of app monetization strategies.
Some categories of apps are more suited to specific app monetization models than others. Some apps focus on one particular area of app monetization, and others incorporate multiple aspects.
Ways To Monetize Free Mobile Apps
According to Statista, these were the most popular app monetization methods used by top app publishers: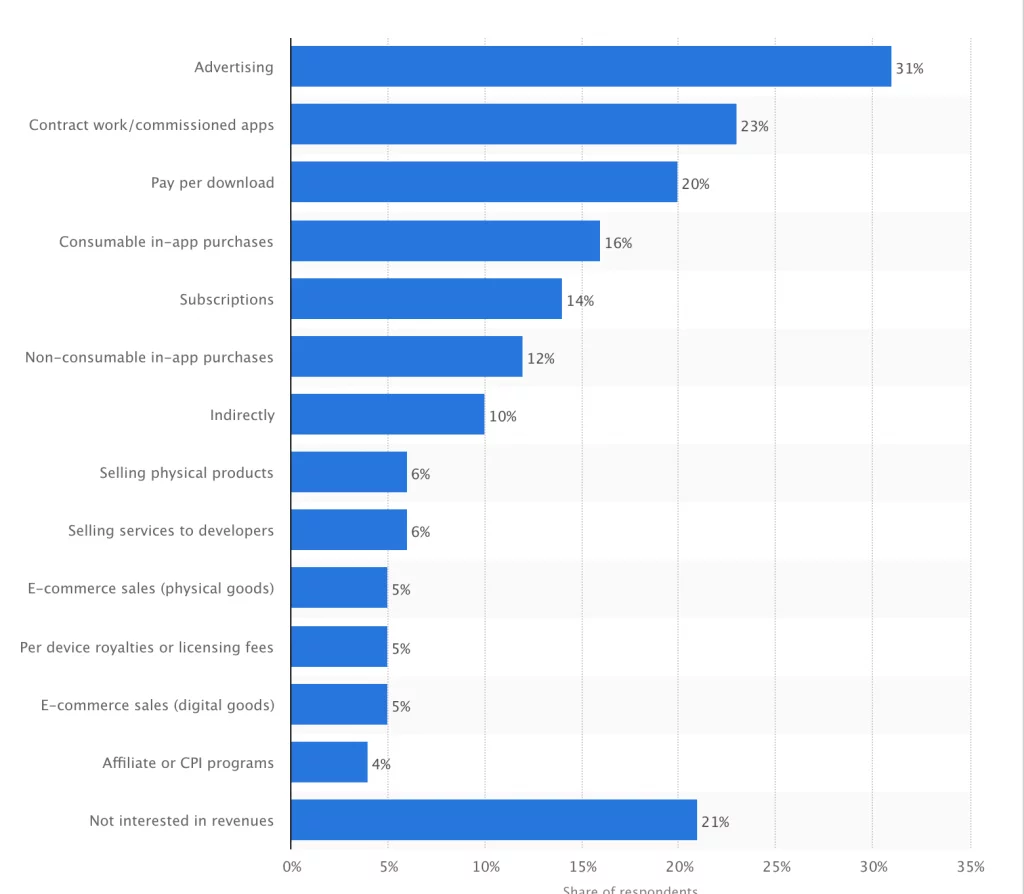 Below, I'll expand on a couple of these methods to hopefully help you adopt some easy ways to monetize from your free app.
In-app advertising
In-app advertising provides a great app monetization strategy. It is also the most popular way for app publishers to make money from their free apps. The in-app advertising market is constantly growing, expecting to hit $201 billion in 2021, triple the $72 billion it registered in 2016.
Why has the in-app advertising space experienced such growth over the last few years? We can chalk that up to the fact that people spend a significant amount of their waking hours on mobile devices. According to eMarketer, the average US adult spends 3 hours and 43 minutes on their mobile devices.
Typical mobile users now spend more than 87% of their time on apps. Consequently, according to a report by Opera Software, in-app ads perform 1.7 times better than standard mobile internet ads.
Advertisers are following the money, and with bigger and bigger slices of key demographics becoming "mobile-first," there's going to be a lot more to follow in the future.
So now that we know why in-app advertising is so popular, let's get into exactly what it is, and how to use it on your apps.
Benefits of in-app advertising
In-app ads ensure that apps can remain free, so it becomes easier to scale an audience when there's no cost to download.
The app publishers retain control. You can blacklist certain types of advertisers, choose a set floor price, and more.
In-app advertising is versatile, allowing the app publisher to combat user experience concerns. Thanks to the wide variety of ad formats allowing apps to accommodate the user experience in a way that isn't disruptive.
It's a simple app monetization process. In most cases in-app advertising is transacted programmatically, meaning that the technology fully automates the purchase process.
Popular types of in-app ads
Banner ads
These are small ads that are usually placed at the top or bottom of the mobile device screen. In general, these are less intrusive, as users are still able to use the mobile app normally.
On the other hand, they don't help the appearance of the app at all and divert the user's attention from the app itself. And since people have grown so accustomed to banner ads, have grown some sort of blindness to them, they generally have low engagement rates.
Still, some app publishers make nice profits from banner ads, but to truly make them profitable, you should know your audience, and have quite a large one at that.
Interstitial
These are full-screen ads, usually placed at natural pause points, like when moving between menus, or at the end of a flow. Because these aren't interrupting the experience of using your app, they're more likely to generate clicks without being intrusive and causing frustration.
Native advertising
Just like desktop native advertising, the goal of this ad unit is to blend in with your mobile app's style and theme. This ad unit is highly customizable, serves inline with other mobile app content, and can show video content.
Since these ad units 'blend in' with the app features, they are more engaging and normally have a higher CTR than other types of ads.
Reward ads
This type of ad unit utilizes either video or an engaging action like an interactive mini-game or poll. It frequently gets used in mobile games.
Users are offered a reward to engage with the ad content. These app rewards can increase app loyalty and user engagement. The profit from this tactic is gained via in-app currencies or points a user receives upon completion of the ad interaction.
Email lists
Just like with desktop-based monetization strategies, an email strategy tie-in with your app is a fantastic way to get more engagement from your customers, which in turn leads to more money.
You can ask users to subscribe to an email newsletter via your mobile app by displaying a pop-up message by offering something in return (app coins or points), using third-party tools for email collection, or just be asking them to open an account on your app.
The most important thing is to ask for your users' permission to collect their data and send them emails, make your purpose clear to them.
People don't change their email addresses often. That makes an email marketing campaign an easy way to make sure users actually see your content and engage with it. It also makes it very easy to promote new content, partner content, products, or even affiliate offers.
Freemium
Freemium apps – free to download, but including paid in-app purchases – now produce 98% of all revenues from Android apps and games. According to Statista, the top-grossing apps are all free of charge.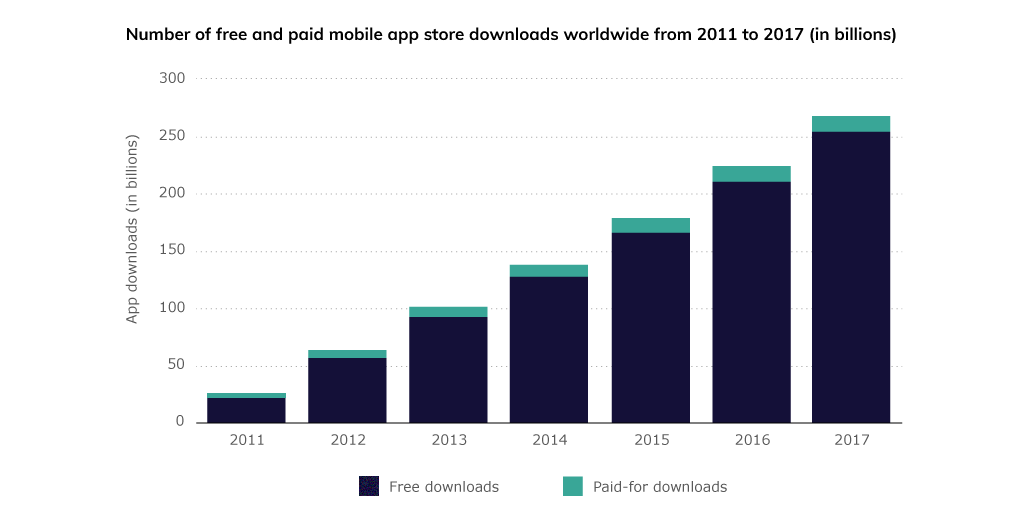 Having a free version allows users to get a sense of what your app can do for them. It makes those that truly love and use the app be willing to pay more for additional features and a better overall experience.
Another possibility is to choose to offer a subscription model instead of a one-time purchase. For this model, the users get access to all or some features of the app for a specific time. Once this period is over, they will need to pay a recurring fee to keep using the app. With this in-app monetization model, the developer gets a constant stream of revenue.
It's important to note that if users do pay for the premium version of your app, it is your responsibility as a developer to make it worth it for them. Make sure that your premium app provides a significantly better experience than its free counterpart.
Partnerships
Another way to step up your monetization game is to secure a partnership or sponsorship with another brand.
This app monetization strategy requires you to team up with a partner from the same niche as yourself – which guarantees a similar audience, that will probably appreciate being exposed to a new app or company within their area of interest.
A partnership can be users seeing your brand logo on their favorite app, an endorsement, or even a collaboration of a joint service or a special offer between you and your partner.
Additionally, you and your partner can display advertisements featuring each other's app, which will drive more traffic to your app and strengthen your outreach.
In-app purchases
In-app purchasing is a very popular strategy. It is possible to sell virtual or physical items, managed within the app store (hence they get a commission from every purchase).
If your app is a subset of your business then in-app purchases are going to be a large part of your app income. In exchange for your physical product or service, users can pay quickly using the built-in payment structure.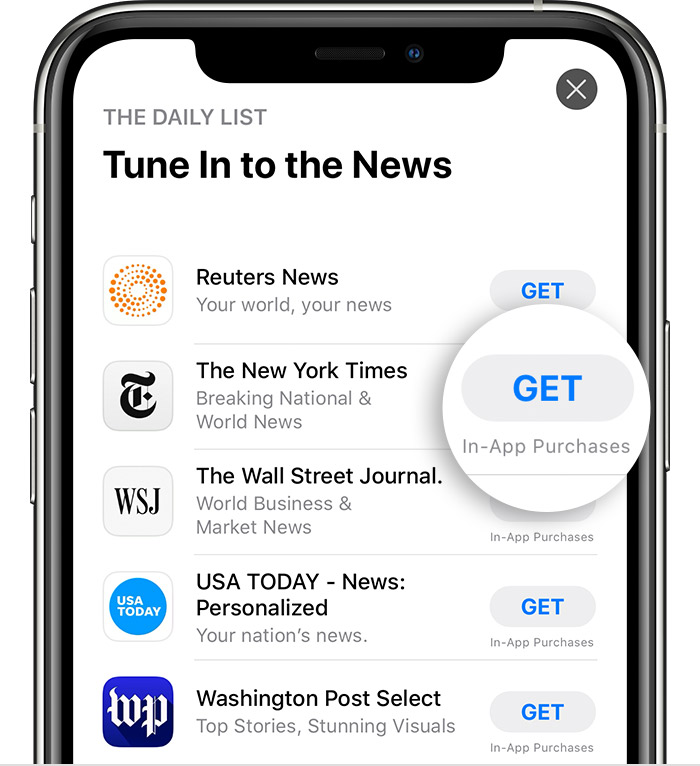 In-App Monetization Best Practices
Data-driven strategies
The best way to optimize your app's ability to generate revenue is by studying analytics you collect from the behaviors of your user base and optimizing accordingly.
One of the most effective strategies includes identifying precise location data from mobile apps to understand consumer habits or behavior better.
You can figure out who is spending the most time and money on your app and place a primary focus on those users instead of spending all of your development time on new user acquisition. You can also identify weak points – at what point in the user's journey do they stop using your app?
After optimizing your weak points, consider finding which one of your efforts is most successful with your audience. With that information, hammer down on the same efforts and try pursuing more of those.
Maintain good user experience
As we have already discussed several times in the blog, user experience is the most important thing when trying to monetize and optimize your website or app.
By bombarding your users with multiple ads, and promotional offers, they feel as though you're being inauthentic, and that ruins their experience. Instead, keep your experience clean and ensure that your monetization strategies do not harm the users' flow through your app.
Use multiple monetization tactics
It's more than alright to incorporate multiple monetization techniques. It's recommended!
App monetization strategies can be implemented alongside each other, just make sure to not overwhelm your users and come across as caring more about monetization than the users themselves. Once again, user experience is key.
For example, The free version of your app can include in-app advertising that goes away once a user has upgraded to the premium version. Partnerships and sponsors can be integrated whenever the opportunity arises, and in-app purchases can be offered after a user spent a set amount of time on the app.
Best In-App Advertising tools
As it is the most hands-off way of monetizing your app, advertising can be a good place to start. Below I listed a couple of ad networks that you can use to display ads on your app.
Created by Google, AdMob is a free platform that gives you a way to earn money by displaying targeted ads alongside your app content. These ads can be customized and targeted to your app content and audience.
ironSource helps mobile app developers monetize successfully by operating an ad network that connects app developers with advertisers, and helps app developers to serve ads on their apps.
Audience Network extends Facebook's people-based advertising beyond the Facebook platform. With Audience Network, publishers can make money by showing ads with accurate targeting from Facebook advertisers in their apps.
A DSP (demand-side platform), Jampp leverages unique contextual and behavioral signals to deliver customers and in-app purchases through programmatic user acquisition and retargeting.
The Amazon Mobile Ad Network is an advertising solution to help app developers monetize their mobile apps inventory across Android, iOS, and Fire OS devices. This network rewards the publisher per impressions (CPM) for advertising Amazon brands and products.
Tapjoy is a tool that makes it easy for publishers to offer in-app rewards for their users. Advertisers place ads with Tapjoy, and Tapjoy shows those ad offers to the user, in the advertising space of participating publishers' apps. When the user completes the ad offer, the advertisers notify Tapjoy so the user can be rewarded.
Zoomd is dedicated to helping advertisers and publishers achieve their key performance indicators through a patented, performance-based advertising platform.
How Much Money Can Free Apps Make?
The amount of money that a publisher can make from their app varies based on the number of daily active users they have. It also depends on the type of monetization strategy the publisher chooses to use.
Despite not being able to give an exact number, we can definitely state that when an app works well, the potential to make money from it exists.
Currently, the apps that are in the top 200 apps on the app store, manage to earn around $82,500 on a daily basis. This number differs depending on how popular your app is, how many active users it generates, the category, and more.
One thing we can say for sure is that the app market is registering continued growth and according to Statista, this growth is going to remain strong in the future as well.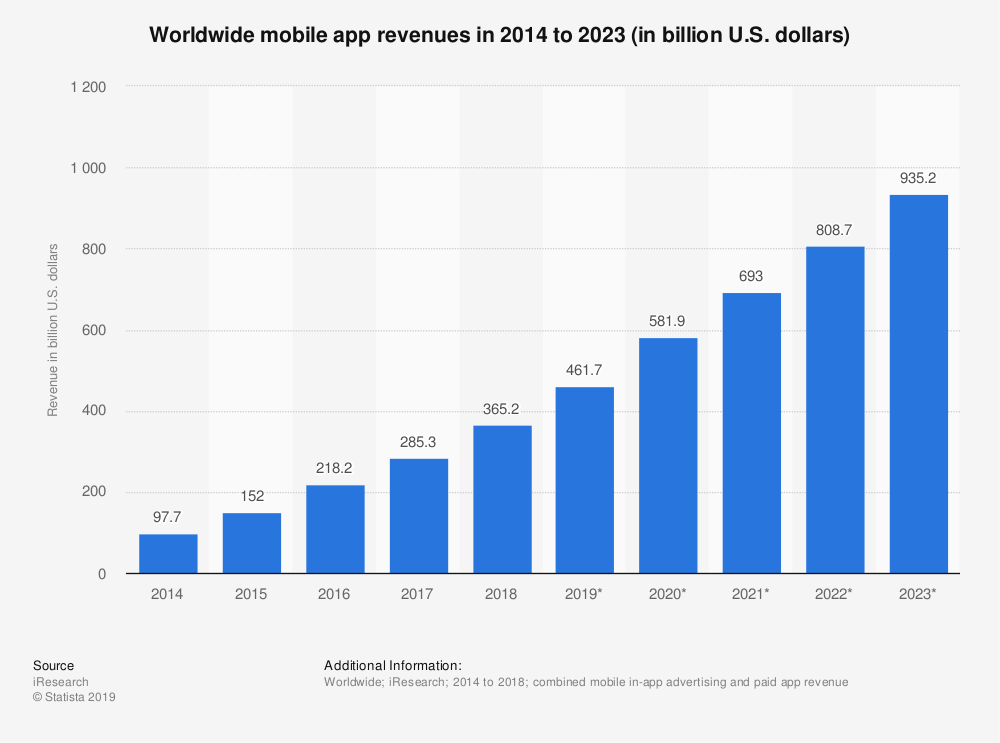 Conclusion
By this point, you are well aware of the benefits in-app monetization strategies can give you. In this article, we have discussed the most earning revenue models and provided tips on how to use them yourself.
It's important to note that each method has its pros and cons, making it necessary to understand the product you would like to develop, the time you have to invest in monetizing, and the opportunities available for you.
The bottom line – experiment with monetization techniques and see what works for you. Just remember, the key that user experience and monetization revenue are unavoidably connected to each other.